Les Miserables: 1935 Film Version
This is the only film version of this story to receive a nom from the Academy for best picture and it certainly deserves it! This film is beautiful and classic with wonderful acting. I have watched this film three times now and each time I believe it better. I think the best acting job in this film comes from Frederich March, who plays Valjean. He is really amazing... The best scene in this version, I think, is when Jean Valjean says what he thinks is goodbye to Cosette. I also love the scene when Valjean finds out an innocent man has been mistaken for him and he needs to decide whether to show himself or not.
QUOTES:
"Obviously you have faith in me, so I must have faith in you."-The Bishop
"You give everything, Monseuir Madeline..."-Fantine(in case you haven't read, seen, or heard Les Miserables that is one of the names Jean Valjean uses...)
"Remember, love always."-Jean Valjean
"As once told me, life is to give, not to take."-Jean Valjean
Les Miserables: 1952 Film Version
COMING SOON....As soon as I get to watch it one more time! (I've only seen this version once.) I would rate this as the lowest of the three versions I've seen, but it was still great.
Les Miserables: 1998 Film Version
Express your thoughts on this version at the Poll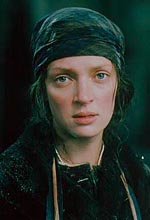 This version came out to rent November 3rd (it's playing on DirectTicket now, btw...not in widescreen, though, which annoys me...) Let me just say that (even though I think Apple and I are the only ones who think so) THIS FILM IS ABSOLUTELY AMAZING. Okay, sometimes it isn't exact to the original story, but every re-telling changes it a bit. Yes, they didn't have Enjolras or Eponine, but this was only a 2 hour movie...I didn't really mind the changes because all the movies before it changed the story around as well. The only changing I found really odd was when Valjean tells Cosette about his past and Fantine before his death...I know this version ended before his death but it would have been more dramatic that way, but I'M NOT COMPLAINING! :-)I wish for it to be this years Academy winner but I know it won't be because of how some of the other films have such Oscar buzz, and as mentioned, everyone hated it, I think. Well, I was correct earlier with saying Uma Thurman turned out the best acting performance of the film, IMO, anyway. Especially compared to the actresses who portrayed Fantine in the earlier films! But the others in this amazing as well, like Liam Nesson and Geoffrey Rush! I am in love with the whole story of Les Miserables and I would probably like a film on it that was even only okay but this film is spectacular, really. Well...in my opinion...my favourite scenes are the scenes with Fantine right before her death, and when they fired her...and when Valjean says goodbye to Cosette...and a lot of others, I only wish they would have continued past the ending, and put Eponine and Enjolras in, but then it would have turn into a 3 hr. + film which I would have loved but...okay, ANYWAY...:-)
QUOTES:
"Don't forget-don't ever forget-that you have promised to become a new man."-The Bishop
"My Cosette is a sweet little girl. An innocent, sweet little girl. Please don't punish her for my sin."-Fantine
"We've all had troubles, Lafitte. And we all need help from time to time. Rest."-Jean Valjean
"I order you to forgive yourself."-Jean Valjean
"I'm doing my best. I'm going to get better for my little girl. But if He chooses to take me, will you look after Cosette?"-Fantine "You and Cosette will always be safe with me. I swear it."-Jean Valjean
"She...I think she is holding on just to see her daughter."-Sister Simplice (Well, in the book, I don't know if they changed the name in the movie)
"I was just dreaming...about you...and me, and Cosette. You and I were at Cosette's conformation...and...she looked so beautiful. And she didn't know who I was...and I was crying..."-Fantine
"I know I'm not going to live long. Give this to her. I saved it for her. Give it to her, please."-Fantine
"I'm the Queen of France!"-Young Cosette "You are the Queen, Cosette, you are the Queen!"-Jean Valjean
"I didn't breathe when you talked. I was afraid I'd miss a word."-Cosette
"Go to her. She's your future."-Jean Valjean "If we don't win tonight, none of us will have a future."-Marius "You'll have love. That is the future God gives us."-Jean Valjean
"I stole something, I did. I stole happiness with you. I don't mind paying. Go to him, he is your life now."-Jean Valjean
This page hosted by Geocities